Contact:

203-214-7006
sunshineorganizingservices@gmail.com
For immediate release:
Matt Vogt Joins Team at Enterprise Computer, LLC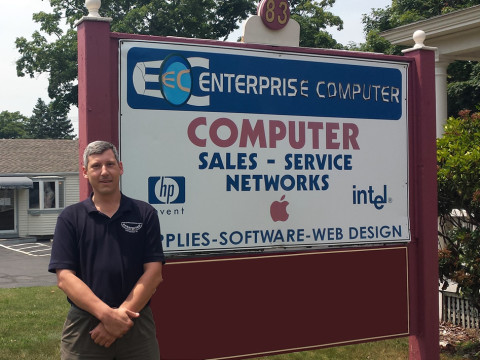 Matt Vogt recently joined the team at Enterprise Computer, LLC, which has offices at 83 West Main Street in Clinton and 71 West Main Street in Branford.
Matt, who started working with computers at age 8 and has been fixing computers and networks professionally since 2000, began working professionally with IT by following a path of training, experimentation, and certification. He currently holds almost 40 distinct certifications from vendors such as Microsoft, Cisco, Comptia, Labtech, and others.
Matt has also focused on traditional education to further his skills and offerings by earning an MBA and a Masters in Information Technology Management. These degrees allow him to offer support plans and project suggestions that view the client's troubles from a holistic perspective. Being able to look at not just the technology, but the costs, the business, and the effects on employees means the best plans can be developed and offered.
Matt loves the puzzles that show up in the IT field and he loves the ability to resolve issues in a way that is positive for friends and clients. He owned a local computer franchise and his own technology business. He also managed the Nerds to Go franchise in Old Saybrook.
"We look forward to seeing what Matt can bring to our customers and add to our technological war chest," said Rich Holton, owner of Enterprise Computer, LLC. "We have quite the team at Enterprise, growing everyday and look forward to helping you in the future."
Enterprise Computer, LLC, sells and services most major brands of computers and offers a variety of residential and business services, including wireless networking and security, inventory managements, project management, office moves, point of sale systems, web design, emergency support, electronic recycling, and more. For more information, visit www.enterprisecomputer.com.